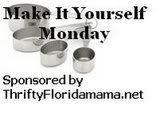 Angie, one of my favorite frugal mommy bloggers, has started hosting Make it Yourself Monday on her blog. For more Make it yourself ideas visit Thrifty Florida Mama

Cream Soup Mix
2 cups powdered milk
3/4 cup cornstarch
1/4 cup chicken bouillion  (run through blender or food processor)
1 tsp basil leaves
1 tsp thyme
1/2 tsp pepper
Mix all ingredients in an airtight container. Whe you have a recipe that calls for cream of chicken (or other soup) blend 1/3 cup of dry mix with 1 1/4 cup cold water. Cook stirring until thickened.